BREF by Darren Chin
"Bref" is French for "brief" or "short".

Many chefs dream of opening their own restaurant. Opening DC Restaurant was that dream coming true for me. The heat, the long hours and never-ending pressure, working with my dedicated team and at the end of a long evening, seeing the looks of satisfaction on my customers' faces. I love it all.

But throughout, I found myself yearning for that little retreat. I still wanted to cook the way I used to enjoy cooking. With feeling, with the best (not necessarily the most luxurious) ingredients I could find on the day, aiming only to please the ones I love and enjoy the blessing of their company.

I wanted to share my memories of what good food could be. My experiences working in Paris in Michelin starred-kitchens or cutting-edge bistronomiques, visiting the classic brasseries along the Seine, or even cooking for my family in a rustic cottage in Margaret River: a lovely piece of roast beef, a homely soup nurtured for long hours, a myriad of colourful, flavourful salads. I wanted to cook the food that makes me happy, shorn entirely of expectations about what a Darren Chin restaurant should or shouldn't be.

I want Bref to be that place. I want it to be a home for my memories, where my guests can make new and happy ones, and where simplicity can create so much joy.

I am so privileged to have the chance to welcome you to my little retreat: Bref

Darren Chin, Chef-Patron
The Team
Darren Chin
Chef-Patron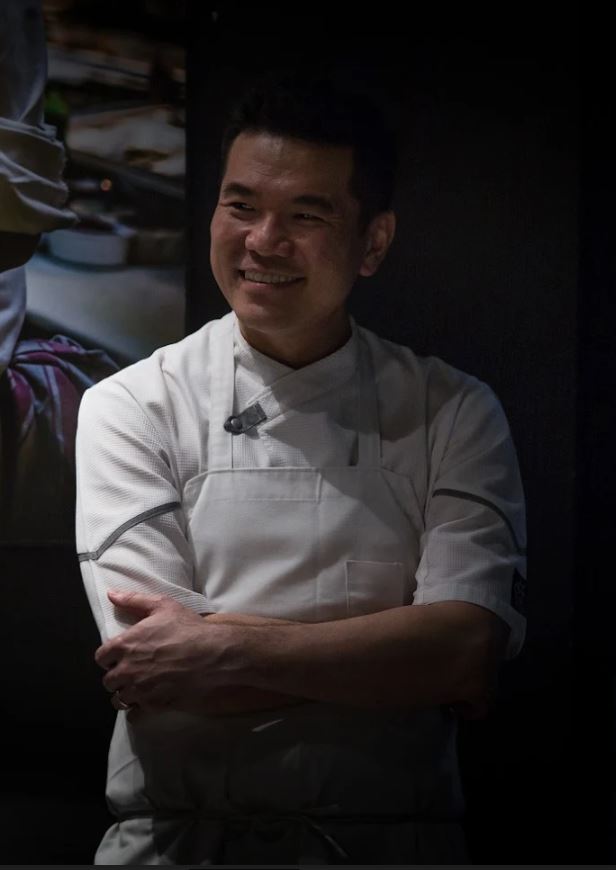 After graduating from KDU in 1999, Darren started his culinary career in the family business, the renowned homegrown casual restaurant chain Dave's Deli. Craving further knowledge and experience, he packed his bags for France in 2012, graduating from Le Cordon Bleu Paris with a Grand Diplфme in Cuisine and Pвtisserie. He subsequently worked at the school for a period, before stints at the Michelin-starred Lasserre and Top Chef France finalist Pierre Sang-Boyer's fashionable bistronomique in Paris' 11th Arr.

Darren returned to Malaysia in 2014, opening DC Restaurant in leafy TTDI that November. Since then, he has established a reputation as one of Malaysia's best Western cuisine chefs. His integration of classic French technique and the best Asian and European ingredients has won him both popular and critical acclaim, including Malaysia Tatler's "Best Independent Restaurant 2017-2018", and the Golden Cauldron for Best All-Round Restaurant at successive editions of the Malaysia International Gastronomy Festival (2016 and 2018).

When he is not cooking at DC, you will find him slinging pans at Bref. "At Bref, I want to cook the food that makes me happy. I want it to be a home for my memories, and for my guests to create new and happy ones".


Lim Wei Han
Chef Patron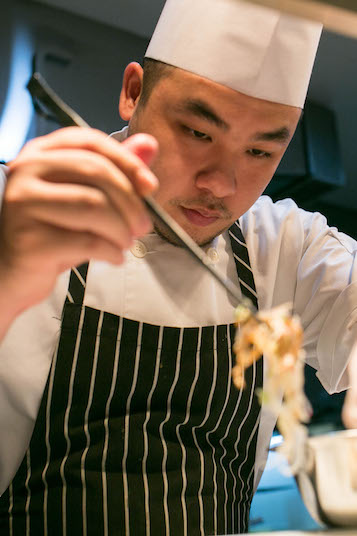 Han started cooking at age 15 at humble streetside Chinese restaurants, before opting for a formal culinary education to broaden his professional opportunities. After graduation, he worked at popular KL eateries Mezze and Top Shelf before joining DC in February 2015 as chef de partie. Since then, he has been Darren's right-hand man, rising to sous chef and being credited on DC's menu for its unique, seasonal Asian-inflected desserts.

He is excited to run his first kitchen brigade as part of the Darren Chin family, and to assume a customer-facing role at the head of Bref's open kitchen. "When Darren entrusted me with Bref, it was like finishing military school, and now he wants me to fight my own war, my way. I had to challenge myself: how do I express myself using all the years of training and working with him?" You will have to visit Bref to find out!